PRIVATE WEALTH MANAGEMENT
Popular culture abounds with references to sophisticated, high-profile institutional investors managing millions of dollars in assets among crowded trading floors full of shouting traders.  The institutional investment world ranges from staid banks conservatively managing corporate pension fund assets, to Wall Street brokerage firms working for public pension funds (states and municipalities, teachers', police and fire funds, etc.) all the way to hedge funds of an endless array of flavors for institutional and accredited individual clients… the "Wild West" of the investment world.  The world of Public asset management prizes "transparency" given the public trust nature of the investment task.
In contrast to a public/corporate clientele, Private Wealth Management involves managing assets of high-net-worth individuals and families.  This market is the one in which MONTAG, one of Atlanta's oldest investment advisory firms, has specialized for decades.  Our clients' wealth is often accumulated over a lifetime of toil and careful decision-making.  We appreciate being invited to play a role in the protection, growth and stewardship of these hard-earned assets.  MONTAG clients come to appreciate the discretion and confidentiality we bring to the task.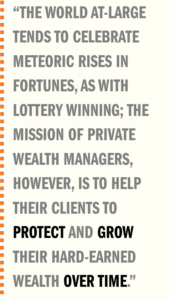 One important aspect of our private wealth management work with clients relates to the appointment of a single Portfolio Manager to be a main point-of-contact with each client.  MONTAG has more than a dozen Portfolio Managers, with an average of over 25 years of experience in managing client portfolios.  Among this veteran team are a variety of perspectives and investment styles:  Equity, fixed income, balanced, value, growth, etc.   Some have a particular expertise in one or more sectors of stocks (banks and financial institutions, or technology, for example).  MONTAG makes an effort to match clients to Portfolio Managers based on the best "fit" as to expertise, temperament and style.  Relationships develop over time, as clients and their portfolio manager communicate at a frequency that is comfortable for the client, and meet in person at an agreed-upon interval to discuss markets, risk tolerance, investment objectives, time horizons, and any new developments or changes relevant to the investor profile.
Another critical aspect to MONTAG's Private Wealth Management approach relates to the role played by Portfolio Administrators. They are the backbone of our Client Service Team, and are matched specifically to each client. Portfolio Administrators coordinate opening and closing accounts, have daily interactions with custodial firms, support the work of Portfolio Managers, and handle client requests. Over the years, they also get to know our clients very well, helping us provide a level of service and security that helps set our firm apart. Finally, MONTAG's Client Service Team has built-in redundancies to cover for vacations, even out workload flows, and promote broad knowledge of client relationships.
In short, a dedicated Portfolio Manager – supported by a dedicated Portfolio Administrator, backed up by a coordinated Client Service Team – have long been keys to MONTAG's Private Wealth Management for its clients.