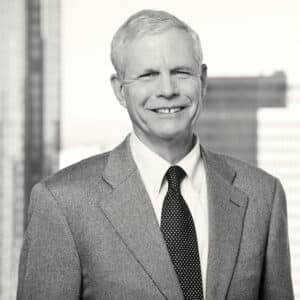 Mikell Jones has provided an invaluable partnership and friendship to our firm and our family since 1984. Mike joined our firm in mid-February that year as a portfolio manager with responsibilities for client service and research, a job he performed successfully until his retirement on the last day of December, 2020. During this 36 years with our firm, Mike essentially became a member of our family and he and his lovely wife Jane saw the evolution of our firm in ways that no other folks did.
Mike was born and grew up in Savannah, one of three children in the household. His father was an insurance executive raised in Lynchburg VA and his mom had been raised in Wilmington NC. After graduating from high school, he headed to Davidson College in North Carolina. Upon graduation he entered Emory's business school and was a successful student there. Finishing at Emory, he chose to stay in Atlanta and was promptly hired by Trust Company of Georgia, the legendary predecessor to SunTrust and Truist.
Mike had the privilege of moving among departments for his first few years as a participant in the bank's executive training program. Since he had natural talent and serious interest in the investment field, he was then assigned to the bank's trust department, as an investment manager which was perpetuating its well-established and highly regarded reputation with people like him running that business.
Mike would serve there from 1968 until 1984. It was in 1984 that our founder Tony Montag finally had the good sense and good fortune to make an offer to someone who would contribute as much as Tony to the day-to-day management of client handling and investment decisions.
During his 36 years with MONTAG, Mike handled investment management for a large number of client relationships with the longest tenure at the firm. It is no accident that many clients hold deep affection, respect and high confidence in Mikell, and in his honor, many have in the last few months enthusiastically made contributions to his philanthropy of choice: the Georgia Audubon Society.
For most of his adult life Mike has been an avid birdwatcher. He's traveled with other individuals to any number of locations for this purpose including Guatemala, Trinidad, Chile, Argentina, Brazil and Suriname seeking rare species of birds.
Mike married Jane Harmon in 1982. Jane had a distinguished career at the Paideia School in Atlanta. Together they traveled many times around the nation and across the globe.
Mike and Tony originally met servicing the same client and came to like each other and cooperate easily. It was from that excellent meeting that stemmed a career long friendship and professional cooperation. No other person has filled the shoes Mike filled for MONTAG.
We hope you'll take an opportunity to be in touch with Mike if you haven't. We can share contact information if you will contact our office directly. We have the warmest regard for Mike Jones and are grateful for the pivotal and exemplary role Mike long has played in our business.