New Year's Recipe: Louisiana "Hoppin' John"
On New Year's Day, the traditional Southern spread consists of black-eyed peas and collard greens (symbols for wealth—coins and green folding money, respectively), ham or pork (for prosperity), and cornbread (for gold).  This recipe for Louisiana "Hoppin' John" incorporates them all!
INGREDIENTS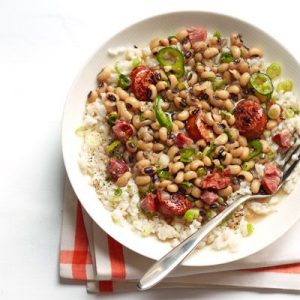 1 lb. dried black-eyed peas
3 tbsp. olive oil
1 package kielbasa
2 large onions
6 clove garlic
2 ham hocks
4 scallions
1 jalapeño pepper (seeded for less heat if desired)
Kosher salt and pepper
2 c. long-grain white rice
Louisiana Hot Sauce
DIRECTIONS
Heat 2 tablespoons oil in a large pot or Dutch oven over medium-high heat. Add the kielbasa and cook, turning once, until browned, 2 to 3 minutes; transfer to a plate.
Reduce heat to medium, add the onions and remaining tablespoon oil, and cook, covered, stirring occasionally, until tender, 6 to 8 minutes. Add the garlic and cook, stirring, for 2 minutes.
Return the kielbasa to the pot and add the soaked peas, ham hocks, and 3 cups water; bring to a boil. Reduce heat and simmer, covered, stirring occasionally, until the peas are tender, 1 to 1 1/2 hours.
Twenty-five minutes before the peas are done, cook the rice according to package directions.
Transfer the ham hocks to a plate. When cool enough to handle, shred the meat, discarding the skin and bones. Stir the meat back into the pot along with the scallions, jalapeño, 1/2 teaspoon salt, and 1/4 teaspoon pepper. Serve over the rice with additional jalapeño and hot sauce, if desired.
Source:  womensday.com