CAPITAL APPRECIATION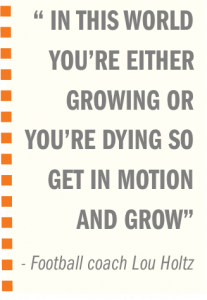 Clients who come to MONTAG have amassed wealth in a variety of ways, whether from successful business creation, earnings from professional careers, liquidation of other assets such as real estate, inheritance, or any number of other ways personal or family wealth can be created over time.  A common thread among MONTAG clients is the motivation to PROTECT and GROW their capital.  The "GROW" function speaks directly to the notion of capital appreciation.
A common motivator for clients seeking growth in their portfolios is the idea of staying ahead of inflation, which can chip away at the real value of a portfolio that isn't growing.  Simply put, inflation means that future investment portfolio dollars will have less purchasing power than they have today.  Hence, these clients are willing to undertake greater risk in the hope for greater portfolio returns.  Clients' tolerance for risk in pursuit of growth must be taken into account when investment objectives are designed.
Acclaimed football coach Lou Holtz makes his thoughts on growth clear in the quote nearby, where he presents it as essentially a fact-of-life.  In the investment world, another fact-of-life is that clients who seek growth can be expected to have a greater equity allocation (stocks/ETFs) than those seeking preservation.
Naturally, clients whose investment objectives are geared toward capital appreciation need to be prepared for a "bumpier ride" on the road toward portfolio growth over time.  Those motivated by portfolio appreciation can expect growth to come at the "cost" of having less protection in down markets.  The trade-offs over time can be significant, and these matters should be the subject of robust discussion between clients and their MONTAG portfolio manager.
For an expanded discussion of MONTAG's Methods of Analysis, Investment Strategies, and Risk of Loss, please consult our firm's latest Form ADV Part 2A – available upon request.